Savvys Stien
Status
Alive
Reddit Username
Montreal_Eh
Race
Shinigami
Birthday
October 31
Gender
Male
Height
6'3"
Weight
173
Blood Type
B
Professional Status
Base of Operations
Seireitei
Affiliation
Gotei 13, Soul Society
Previous Division
12
Zanpakutō
Shikai
Denki Kyōki
Sealed Weapon
Katana
Appearance
Edit
He has light blonde hair that comes down to the back of his neck and his bangs cover his eyes. He has green eyes that have a kind of watery blue tint to them. He is 6 foot 3 and is rather lean. He is in pretty good shape so he has a six pack. he also has mutiple scars on his body which he tends not to talk about.
Personality
Edit
He is insane to the point he is dangerous. He carries an array of items in his Shihakusho like a flask, a syringe, and a lot of unknown chemicals, this may be because of his insanity. He also thinks very low of others intelagence and believes he can talk his way out of any situation, which he can't. He enjoys tricking people and doing scientific experiments on other as well as himself. 
To Be Written
Zanpakuto
Edit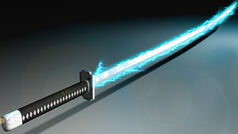 Release command: Strike
| | |
| --- | --- |
| Name | Tamashī no denki 電気魂 |
| Type | Offencive  |
| Cost | Mid |
| Stat | SEI/ BUK |
| Range | Long     |
Tamashī no denki uses the lighting that surrounds its blade to shoot at another oponent or to hit and oponent with his blade sending shocks through the or burning them. It acts as a fire attack, causing physical damage, buring flesh and clothes.It apears as a blue colored lightning, much like Azula's from Avatar the Last Airbender. It more of a projectile and is based mostly off of Savvys Bukijuu and Seijuu.
 

| | |
| --- | --- |
| Name | Denki shīrudo 電気シールド |
| Type | Defencive |
| Cost | Mid |
| Stat | SEI/ REI |
| Range | Short        |
Denki shīrudo uses the lighting the sorrounds its blade to create an electric shield, much like a force field.
Statistics
Edit
NV-1
STAT
POINTS
HAN
6
REI
6
HAK
6
SEI
6
BUK
8
HOH
8
Base points
40
Earned
0 (Master Log)
Points spent on abilities
0
Total
40
Ad blocker interference detected!
Wikia is a free-to-use site that makes money from advertising. We have a modified experience for viewers using ad blockers

Wikia is not accessible if you've made further modifications. Remove the custom ad blocker rule(s) and the page will load as expected.