Miku Sugimoto
Status
Alive
Reddit Username
Miku_Sugimoto
Race
Shinigami
Birthday
July 13th
Gender
Female
Height
5'3"
Blood Type
B+
Family
Sugimoto
Professional Status
Base of Operations
Seireitei
Affiliation
Gotei 13, Soul Society
Division
6
Position
seated officer
Previous Partner
Mal - Captain
Partner
Marju Raiki - Captain

Chi - Lieutenant

Alignment
Lawful Moral
Zanpakutō
Release Command
形態 Keitai (Form)
Shikai
保護の宝石 Hogo no hōseki (Jewel of protection)
Bankai
None
Sealed Weapon
Katana
Tsuba shape
Gloves
Appearance
Edit
Miku has long dark violet hair, which often shifts hue in different lighting, she wears it tied up sometimes. She has fair skin and large blue eyes, she looks rather young for her age, though often the right clothing makes her look older. She has fair sized boobs and a lizard tattoo on her right shoulder, along with a slim built figure.
Personality
Edit
Miku is a upbeat and friendly person although has some bite to her bark if provoked, she often wont back down from an arguement or a fight. She is loyal and protective of friends she makes and would do whatever she could to keep them safe.
Just your average boring story, growing up in Rukongai in a middle class home, eventually showing spiritual pressure and being taken into the Academy.
Powers and Abilities
Edit
Zanpakutō Edit
保護の宝石 Hogo no hōseki (Jewel of protection)
Release command: 形態 Keitai (Form)

金剛石霜 Kongōseki shimo (Diamond frost)

| | |
| --- | --- |
| Name | 金剛石霜 Kongōseki shimo (Diamond frost) |
| Type | Shield |
| Cost | Medium |
| Stat | Han |
| Range | Self |

Hardened diamond skin that protects against attacks (attacking stat used at time) weaker than Miku's Han stat, the bigger the difference the less damage taken.
結晶性らせん Kesshō-sei rasen (Crystalline Spirals)

| | |
| --- | --- |
| Name | 結晶性らせん Kesshō-sei rasen (Crystalline Spirals) |
| Type | Offensive |
| Cost | Medium |
| Stat | Hak/Buk |
| Range | Melee |
Crystalline spikes form and protude from Miku's arms and fist as she punches the target the spikes shard off and shatter shooting forwards towards the target, upon hits would cause damage alike shards of glass.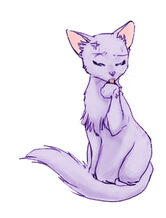 Non-combat passive: Cat form.
Miku can turn into a cat as she pleases, this was a trait passed down from the females in her family.
Statistics
Edit
NV-1
STAT
POINTS
HAN
8
REI
5
HAK
8
SEI
5
BUK
6
HOH
8
Base points
40
Earned
0 (Master Log)
Points spent on abilities
0
Total
40
Ad blocker interference detected!
Wikia is a free-to-use site that makes money from advertising. We have a modified experience for viewers using ad blockers

Wikia is not accessible if you've made further modifications. Remove the custom ad blocker rule(s) and the page will load as expected.