Outside appearance
Edit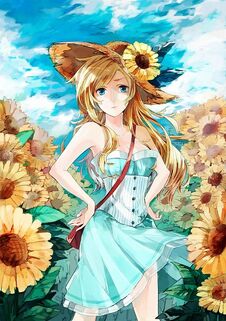 The tower now has windows but they are all covered by curtains. The area is surrounded by ash and some dead flowers that weren't completely burnt in the fire. It is an eight story tower.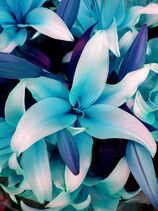 Anya's Hangout The room isn't as Dark as the others because of the artificial lights for her flowers. She loves lilies so she has blue and white lilies covering the floor. She also has 8 feet tall sunflowers growing against the walls because they remind her of russia. There two trees with a hammock between them.
First Floor
Edit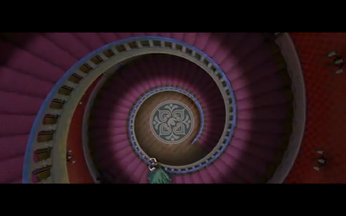 Entrance
This room doesn't have much. There is a large spiral staircase and candles on the wall. This room doesn't have windows.
Second Floor
Edit
Training room
It looks a little like a ballet studio.  There is wooden floors and wooden bars attached to the walls. The walls are mirrors to show fighting stances and if your doing them correctly. This helps a lot when teaching Finn and any other fraccìon that want her help ad train with her.
Third and Fourth Floors
Edit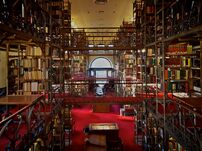 Library
These two floors are filled with all different books. It has stairs and tall bookcases. Its candle lit and all of the windows are covered by maroon curtains.
Fifth Floor
Edit
Hangout Room and Fraccìon quarters
This floor has a large main room with pillows, bean bag and a couch. Its the place where Anya and her fraccìon can hang out. On the other side of the room has lower tables and pillows instead of normal tables and chairs. Its a large room thats also light with candles so it has the same ominous effect. Although Anya doesn't eat the kitchen is for Finn and her fraccìon. She has many different teas stored in the kitchen and always has a bottle of vodka too. The fraccìon quarters are rooms surrounding the hangout room. They are the only rooms with windows on this floor and the fraccìon can choose to decorate them as they like.
Sixth Floor
Edit
Storage
No one is really supposed to pass this point but that has been broken before and Anya could careless at this point. This is just a boring old gray room filled with a bunch of stuff that doesn't have any other place.
Finn's Room
This floor is Finn's bed room. It has very light blue walls. It has a very soft carpeting that is a darker blue. Finn's crib was moved to storage and now he has a small bed with blue/gray covers. He has stuffed animals and toys all over the place.
Eighth Floors
Edit
Anya's Room
Anya's bed room has white walls. It has a white desk with a mirror over it on one side of the room and on the opposite side there is a window covered with white curtains. Anya has a white in the middle of the room and a closet with sliding mirror doors.
Ad blocker interference detected!
Wikia is a free-to-use site that makes money from advertising. We have a modified experience for viewers using ad blockers

Wikia is not accessible if you've made further modifications. Remove the custom ad blocker rule(s) and the page will load as expected.